Although people might have made the shift to e-books and Kindle in the last decade, nothing comes close to the experience of reading a physical book bought from the bookstores. The whiff that hits you as soon as you open a book, old or new, the guilty pleasure of running your hands over its cover, smooth or coarse and the sheer weight of it can make it so much more rewarding.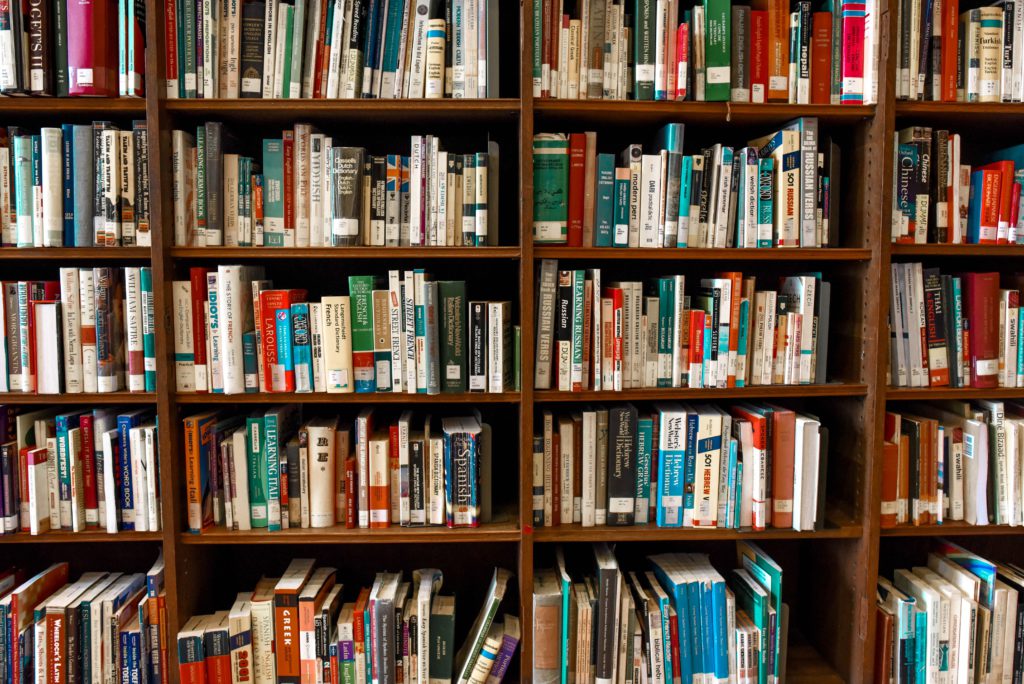 Bibliophiles crave such tangible book reading experiences. And there's no better place to satiate this hunger than a cosy bookstore, full of character, smelling of musty paper.
India is rich with a multitude of amazing bookstores, some older than half a centennial. We've handpicked a list of six of the best bookshops across the country that you should definitely visit, whenever you're around.
1. Kitab Khana, Mumbai
You'll find this boutique bookshop inside a 150-year-old building in Fort, Mumbai. With a huge collection of books that include not just best-sellers and popular demands, but also regional literature, it is perfect for everyone. Apart from books in English, the vast range of books in Hindi, Marathi and Gujarati are bound to take you by surprise.
The owners Mrs. Amrita Somaiya and Mr. Samir Somaiya believe in the magic of books and have handcrafted this store with much love, where booklovers can also meet up and hang out, or attend special events. What's even better is the in-house café, thus taking care of your coffee fix!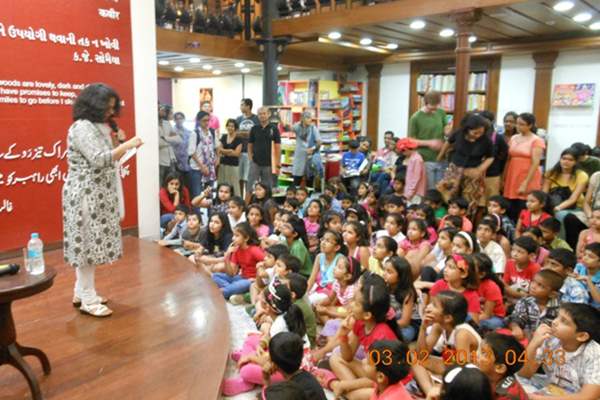 Location: Ground Floor, Flora Fountain Somaiya Bhavan, Fort, Mumbai.
2. The Bookshop, New Delhi
There's something absolutely enchanting and romantic about this quaint bookshop, tucked away in a quiet neighbourhood. Cosiness drips from its walls as you enter this place, which first opened its doors in 1970. This legacy bookstore is a melting pot of Jazz and Broadway music, amazing books and great conversations.
An old favourite amongst Delhiites, you'll find literary fiction, history, biography, crime and mystery, science fiction, fantasy, graphic novels, cookbooks and children's literature in here. If a book you're looking for is out of stock, they order it for you at no extra cost!
Location: 13/7 Jor Bagh Market, New Delhi.
3. Cambridge Book Depot, Mussoorie
A thick classic can take away the gloom on the gloomiest of days, as you sit with a piping hot cup of tea. If you're someone who relates, Cambridge Book Depot is the perfect place for you. In this small but well-curated bookshop, you'll find heart-warming classics as well as modern books.
Warm, insightful owners with knowledge about Mussoorie-based writers make this place worth a visit. And so does the fact that the well-loved writer, Ruskin Bond, visits this place every Saturday. You'll find the largest collection of his books here and also get them signed by the man himself.
Location: Mall Road, Mussoorie.
4. Literati Book Shop and Cafe, Goa
A two-minute walk off the bustling Calangute road leads you to this bookshop and café in an old Goan bungalow with a lush garden.
Housing an abundance of books of all genres as well as antiquarian books on vintage glass shelves, this Portuguese influenced property is a solace for book lovers looking for some time away from the wild beaches of North Goa.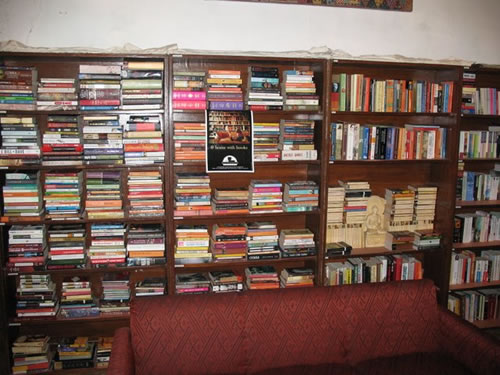 You can grab a cup of coffee alongside reading one of their books or attend the events they host regularly, ranging from book discussions to movie screenings and plays. Warm and well-informed people at the bookstore, a quiet and scenic café, and a collection of some real gems of books are just what you need for a peaceful read.
Location: E/1-282, Gauravaddo, Calangute, Goa.
Literati Book Shop and Cafe's Website
5. Rachna Bookhouse, Gangtok
Initially started by IAS officer Rajiv Shankar Shresta with his father JS Lal Shresta in 1979, the bookstore has had its ups and downs and was eventually re-opened by Raman Shresta after fifteen years.
Today it stands tall amidst the mighty Himalayas as an award-winning bookstore of its own kind. The owner, Raman, who has a meticulous focus on keeping only quality books, likes to redirect young readers looking for mediocre literature towards the classics.
It has evolved as a space that holds live music gigs, film screenings, poetry slams, shadow puppetry, and also has a café and a Bread and Breakfast to make the experience complete for its patrons.
Location: Upper Sichey, Developmental Area, Gangtok, Sikkim.
6. Crossword Bookstores, Pan India
With over 80 stores across 15 states in India, Crossword is the country's fastest-growing chain of bookstores that are perfect for the modern reader including children.
Having started in Mumbai initially in 1992, it is now an easily recognizable name amongst those who love books. Members get points, discounts, and exclusive discounts and offers with the Crossword Book Rewards Program.
And the best part is that it is also an online book store delivering across the country. So if the lockdown during the pandemic gets in your way of visiting your favourite book stores and googling 'book shop near me' leads to closed shops, you can buy books online and savour them just the same.

Crossword Stores Website
7. Atta Galatta, Bengaluru
The Atta Galatta bookstore has become one of the famous landmarks of Bangalore over the years. Housed in a three-story building, it is one of the most unique bookstores in India. The bookstore is known for its beautiful setup, especially as it sits between rows full of lovely homes.
Located in the serene bylanes of Koramangala, this bookstore is guarded by five mighty oak trees. In fact, before being turned into a bookstore, this unique house was known famously as 'Five Oaks.'
Atta Gallata specialises in Indian books, and you can find books in many Indian languages here. The cosy space of the bookstore attracts many young authors, performers, and artists from all over Bangalore.
The ground floor serves as a bakery and cafe, while the other two floors function as the bookstore. Even in times of the pandemic, the Atta Galatta bookstore has resisted turning into an online book store. The owners are set against becoming one of the best online bookstores in Bangalore, though they easily can.
They believe in creating a community space that allows people to still read while holding an actual book. Despite not being present on the list of best online bookstores in India, Atta Gallatta remains one of the most famous bookstores, especially in South India.
Location: 134, 17th H Main Rd, KHB Colony, 5th Block, Koramangala, Bengaluru.
8. Higginbothams, Chennai
Located on the well-known Anna Salai road in Chennai, Higginbothams is one of the oldest surviving bookstores in India. It is also one of the biggest bookstores in Chennai. Sprawled across two floors, the bookstore also has a robust online presence and is known as one of the best online bookstores.
What makes this store special from the other bookstores in India is that it has a separate section dedicated to colourful children's books. From easy learning charts to all types of storybooks for kids can be found here.
Higginbothams was founded in 1844. In the last two centuries, it has amassed a vast collection of books from various publishers from all over the world. It is possible to find books related to all topics in this giant ocean of books at this bookstore.
Location: LIC Building, 116, Anna Salai, near Regional Passport Office, Chennai
9. Bahrisons, Delhi
There are many bookstores in the capital city of India, and none are more famous than Bahrisons. Having two other branches in the city, this leading bookstore is located in the posh Khan Market.
No bibliophile who comes to Delhi should leave the city without visiting at least one of the branches of this historic bookstore. Founded way back in 1953, Bahrisons bookstore is also one of the oldest active bookstores in India.
Bahrisons began as a small stationery and books shop, and from there, it has grown to become one of the most well-stocked literary retreats for book lovers. You can also catch up with this bookstore online as it has one of the best online bookstores in India.
Location: Opp. Main Gate, Khan Market, New Delhi.
10. Midland Book Shop, Delhi
Another bookstore that you cannot miss in the national capital is Midland Book Shop. Located across the city, with the main branch in the Hauz Khas area, it is one of India's most renowned family-run bookstores.
If you are searching for the latest book by your favourite author, Midland is the place to head to as they always have the latest and most updated collection of books from both Indian and international authors. They also have a great comic book and graphic novel collection. However, the children's book section is relatively small here.
They also have an online presence. Being one of the best online bookstores in India means that you will not be disappointed.
Learn Writing Online with Ruskin Bond
Learn all about writing by none other than Ruskin Bond. In his online writing class, he has shared his experience, journey and tips on how to become a better writer
Excel in the art of writing by taking this phenomenal online writing class by the legendary Ruskin Bond. With over 70 years of experience, he needs no introduction. His exclusive online writing course on unluclass will provide you with the right guidance to become a good writer.