One of the most talented and revered Indian authors, Ruskin Bond holds an unrivalled reputation in the writers' community. Believe it or not, he had an early start to his writing career, at the young age of 17 when people are still figuring out how to put a few sentences together.
In fact, his first book, The Room on the Roof won him the John Llewellyn Rhys Prize in 1957 which is more evidence of his excellent and exceptional writing style. His career spans over more than 60 years during which his words have always touched the hearts of people all across the nation.
He has also been rewarded the Sahitya Akademi Award for his novel, Our Trees Still Grow in Dehra in 1992.
His work largely portrays his life in the Northern hill station of Dehradun where he spent his childhood. He has penned hundreds of stories that children cherish even to this day. Apart from this, he is the writer of many short stories, essays, novellas and expositions.
Ruskin Bond's children's books and visual writing style..
When asked about his fondness for writing children's books, he eloquently said, "I had a pretty lonely childhood and it helps me to understand a child better."
Bond describes himself as a "visual writer", someone who can play out an entire story in their mind and then proceed to put it to words. This is why a lot of his stories adroitly limn a backdrop of hill stations of India where he has spent a considerable amount of his life.
In this post, we introduce you to some of the best Ruskin Bond books that you should read at least once in your lifetime. His writing style is beautifully verbose and he paints a picture in the minds of his readers that guarantees an immediate connection with the story.
So here is a list of some of the most famous Ruskin Bond books.
#1. The Room on the Roof
The book that won him the John Llewellyn Rhys Prize, this book captures a young orphaned Anglo-Indian teenager named Rusty and his adventures. Rusty lives with his local guardian Mr Harrison and is deeply unhappy about his stringent ways of raising him.
Like any other teenager, Rusty craves freedom and eventually runs away from home to live with some new Indian friends he makes. While with them, he discovers India in its true glory and marvels at all the things Mr Harrison had been keeping him away from.

Soon, he gets a job offer of teaching a young boy English in exchange for which he is allowed temporary residence in a small room on the roof.
It is indeed one of the best Ruskin Bond books for kids.
#2. Our Trees Still Grow In Dehra
This book is a collection of fourteen remarkable stories from Ruskin's life. One of these stories, A Flight of Pigeons was even adapted into the Bollywood film Junoon.
Mr Bond gives these stories a semi-autobiographical angle, penning eventful tales he has lived over the span of his life.
It goes on to capture his journey from Java to Bombay, his first destination in India and then to Delhi. Finally, he settles in the foothills of the Himalayas and narrates heart-touching tales with a massive dose of nostalgia about this place that is equivalent to heaven in India.
While reading this collection of stories, we understand Mr Bond better and we learn about all the people that have had an impact on him in some way.
#3. The Blue Umbrella
This is a children's book that was adapted into a film of the same name and went on to bag the National Film Award for Best Children's Film later.
The Blue Umbrella follows a young girl Binya who is a resident of a small Indian village called Garhwal. One day some foreigners offer Binya a fancy, frilly blue umbrella in exchange for her leopard claw pendant to which she agrees
Binya would trot around with her newly obtained possession which became the subject of envy for many villagers. Among these was one especially jealous man, a local shopkeeper named Ram Bharosa. He wants to own the umbrella by hook or by crook and resorts to dirty games to accomplish his petty desires.
#4. Delhi Is Not Far
This is a deeply moving book, set against the small and dingy town of Pipalnagar whose residents are eager to escape their dull lives for the promise of an exciting one in the city of Delhi.
The narrator of the book, Arun is an aspiring detective fiction writer. He shares this dream and imagines himself chasing thrilling stories in the city.
He meets a young prostitute, Kamla and an orphaned epileptic, Suraj. They change his perspective about life and teach him various lessons along the way. This book is exceptionally sympathetic with a wisdom that's bound to leave an imprint on you.
#5. Roads To Mussoorie
A nostalgic collection of stories inspired by his stay in the hilly hamlet of Mussoorie, this book captures his love and fondness for the town. It follows him as he journeys in and around the roads of Mussoorie and greets the entertainment of daily scandals. He remarks upon the subtle nuances of everyday life with his classic touch of sense of humour and his eye for peculiar details takes the reader on a purely amusing ride.
#6. A Book of Simple Living
Derived from the deepest recesses of Ruskin's thoughts, this book will end the eternal fight if you have been struggling with the concept of contentment in life. He draws upon his modest life and his experiences after having lived in small hill stations for most of his life.
Wherever you may live, be ready to go on a magical walk in the small, secluded streets of a town surrounded by mountains and beautiful picturesque views. Mr Bond firmly believes that the lap of Mother Nature is where a man will find happiness.
His notes are brief, personal and timeless and they just linger in the mind of his readers.
A quote from the book reads:

"Happiness is a mysterious thing, to be found somewhere between too little and too much."
#7. Angry River
"Angry River" is one of the most popular books written by Ruskin Bond. This is a children's novel about a girl named Sita. She lives with her grandparents on a tiny island amidst a river. One day, both of her grandparents leave for an emergency in the only boat they own and she is left in the hut all by herself.
Soon, the rains get turbulent and there's an imminent flood threatening to drown the entire island. Angry River follows Sita on her adventure as she saves herself from drowning in the incoming floodwater.
#8. A Season Of Ghosts
For all the ghost story lovers out there, Ruskin Bond has something for you too. This Ruskin bond book is an anthology of ghost stories set in the hauntingly dreary mountains of the Himalayas. It includes nine short stories and one novella.
Some of these stories are titled On Fairy Hill, The Prize, The Black Cat and The Night of the Millennium. And the final story, Reunion of the Regal is equal parts gripping and horrifying.
#9. Falling In Love Again
Every season is the season of love. And in this lovely season, nurse your sappy heart with the best stories about love and romance by Ruskin Bond.
This Ruskin Bond book is a collection of stories that are suffused with love, warmth and passion. It will take you on a train ride with various stations named infatuation, heartbreak, joy, intimacy and many more.
Some of the famous stories in this book are The Eyes Have It and The Girl from Copenhagen.
His stories portray simple characters leading simple lives falling in love in simple ways. If you are looking for a heart-warming read, give this book a try.
#10. The Night Train at Deoli And Other Stories
A collection of 30 short stories! This book by Ruskin Bond writes stories set against the small town of Garhwal, a hill station. There is a myriad of themes that these stories explore, from love, loss, pain and struggle to accomplishment.
Some stories are about love, while others are subtle satirical tales of village officials.
Each story packs heavy lessons and will leave the reader pondering over it for a long time. That is just Ruskin Bond's style. He always aims to provoke thoughts amongst his readers. This book is pure emotions weaved into words that will definitely resonate with you.
#11. Rusty, The Boy From The Hills
As the name suggests, Rusty is deeply connected with Ruskin Bond himself. He wrote this book to narrate his own childhood adventures to his audience. Rusty's escapades are Ruskin's own.
Rusty, the Youngster from the Hills, tells the story of himself. Ruskin Bond portrays Rusty, a shy, imaginative, and sensitive boy who lives with his grandparents in Dehradun prior to independence.
Despite the fact that he is not an adventurous person, unusual and extraordinary things happen all around him, and the stories he has to tell are simply intriguing and keep the readers engaged.
This book encompasses Ruskin Bond most thrilling years, from early childhood to early adolescence.
#12. Time Stops at Shamli and Other Stories
Time Stops at Shamli, and Other Stories is a charming collection of tales from India's lesser-known heartland.
Shamli is a small town in India where Ruskin Bond's train stopped on his way to Delhi. Bond describes how this unremarkable location became extremely important to him after he met his first love there.
The characters are simple people who live in Himalayan small towns and villages for the most part of their life.
They aren't the kind who make the news, but they are notable for their quiet heroism, elegance, and commitment to traditional values. This book combines the best of Ruskin's prose and poetry.
#13. The Ruskin Bond Children's Omnibus
Children's Omnibus is a compilation of some of the author's most liked stories, beautifully illustrated for both children and adults.
Although the majority of these stories are set in the hills, they have a universal appeal. Grandfather's Private Zoo, written over 25 years ago, is included in this volume.
Angry River, The Blue Umbrella, The Road to the Bazaar, Ghost Trouble, Cricket for the Crocodile, and Dust on the Mountain are among the other stories included.
These stories are witty, amusing, and quietly evocative, highlighting the allure of simple living.
#14. A Face in the Dark and Other Hauntings: Collected Stories of the Supernatural
While Ruskin Bond does not believe in ghosts, he claims to see them all the time—in the woods, in a tavern, and in a crowd outside a movie theatre.
It's no surprise, however, that in A Face in the Dark and Other Hauntings, a compilation of ghost stories, he makes the supernatural seem totally natural, making it harder to dismiss.
A Face in the Dark, situated in a pine forest outside of Simla, opens the book, and Night of the Millennium, set in an abandoned cemetery, concludes it. This anthology by Ruskin Bond is a must-have for everyone who likes ghost stories.
#15. Funny Side Up
Not only for children but for readers of all ages, Funny Side Up is a fascinating book.
Ruskin Bond introduces his readers to his home, his countryside, and his existence with a remarkable capacity to look at the most mundane situations with exceptional humor and acuity.
This book is a fascinating read, filled with hilarious and colorful characters — monkeys, wild boars, an aunt who has a phobia of flowers, an eccentric cousin who believes he is the great cricket star Ranji, and the clever seven-year-old Gautam.
#16. Maharani
Maharani tells the narrative of Neena, the Maharaja of Mastipur's spoilt, selfish, gorgeous, and aging widow.
She inherited a substantial sum of money from her deceased husband, and the story revolves around her extravagant lifestyle in the 1960s and 1970s. She lives with her pets and a carer in a large ancient house in Mussoorie. She is also a classmate of Ruskin Bond, who is not fond of her antics, such as taking and dumping lovers and drinking excessively.
It's a sweet story about love, death, and friendship.
#17. Susanna's Seven Husbands
Susanna's Seven Husbands was originally published as a 5-page short tale, but Ruskin Bond developed it into a full-fledged book that was adapted into a film, 7 Khoon Maaf, by Vishal Bhardwaj.
Susanna is the protagonist, and she has a proclivity for falling in love with the wrong men.
Susanna becomes known as the joyful widow who jumps from one marriage to the next, leaving a trail of dead spouses in her wake.
The original short tale, the fiction into which it was expanded, and the screenplay for 7 Khoon Maaf, which was based on the book, are all based on it.
#18. Vagrants in the Valley
The sequel to Ruskin Bond's classic, A Room on the Roof, is Vagrants in the Valley.
Rusty realizes that his treasured room is no longer his when he returns to the city with Kishen.
Unfazed, he builds new dwellings and friendships as he starts on a voyage of self-discovery that takes him through the Himalayan foothills.
He meets new individuals, reminisces about his history, learns more about his biological parents, and continues his search for answers.
It is striking, evocative, witty, and wise.
#19. Lone Fox Dancing
Ruskin Bond reveals to us the roots of all he has written in this superbly fascinating autobiography, Lone Fox Dancing.
He starts with a dream and a gentle haunting, then transports us to his idyllic boyhood in Jamnagar on the Arabian Sea, where he wrote his first poetry, and New Delhi in the early 1940s, when he got the inspiration for his first short story.
It proves that an autobiography can be fun to read. It is an excellent choice for book lovers of all ages and a must-read from Ruskin's collection.
#20. Looking for the Rainbow: My Years with Daddy
Looking for the Rainbow focuses on Ruskin's two years in Delhi with his father in the early 1940s, as the title indicates.
He escapes his confining boarding school to live with his father in Delhi. His time in the capital is spent reading, going to the movies, listening to music, and walking and talking with his father – the perfect existence for a curious and wonderfully creative young child.
Looking for the Rainbow is Bond's first-ever children's memoir, complete with charming pictures.
Online Writing Course by Ruskin Bond
Are you a big Ruskin Bond fan? And have always been eager to learn from him, we are here to make your dream come true. The writer with a rare, distinguished writing style and prowess that no one can match up to, Ruskin Bond has been through thick and thin during his long writing career.
He has accumulated some valuable knowledge in those years and he is willing to share it. If you want to learn writing online from one of the most celebrated Indian authors, we have an opportunity just for you.
Sign up for his unluclass where he will tell you how to convert your thoughts into words eloquently.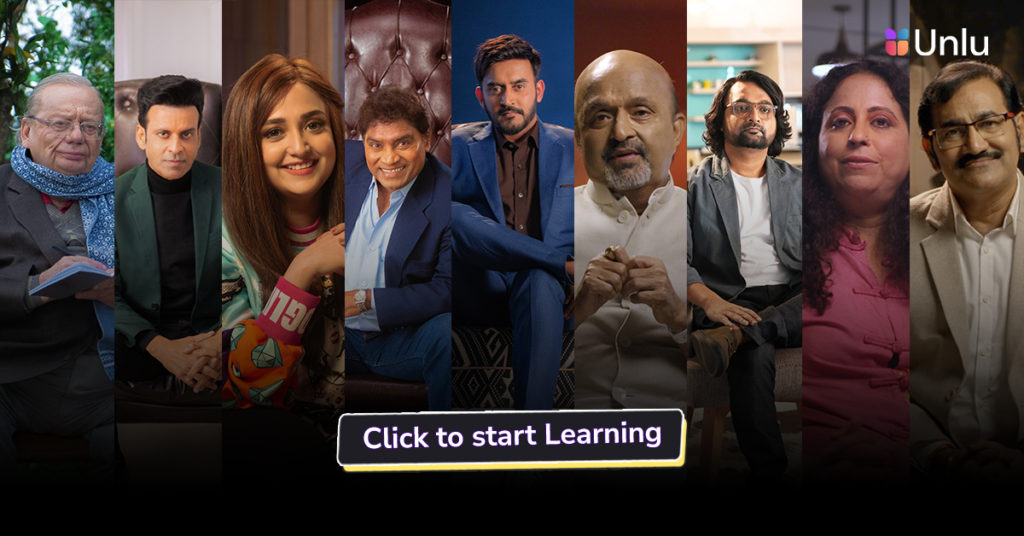 Subscribe to Ruskins Bond's unluclass and learn writing online now. Happy learning!