The art of lyric writing like any other art can be honed. No one is born with the talent to churn emotionally potent lyrics like Hozier, Pink Floyd or Bob Dylan. All the top songwriters too must have started from amateur status.
With the right intention and action, anything can be achieved. If you're someone who waits for inspiration to strike and writes lyrics once in a blue moon, it's time to change that habit. You don't have to lie in anticipation for heartbreak, or a life-changing event that you can weave into a song.
You can master lyric writing by adopting the following exercises mentioned in this blog. So, jump right into it.
1.Co-write with Your Favourite Lyricists
No, you don't have to contact Taylor Swift's assistant for an appointment to write lyrics with her. What you can do instead is print out the lyrics to one of her songs that you love. Now strike out every alternate line from this song.
Grab your pen and fill the now-created blanks in the lyrics with your own. Let your creativity run amok.
A challenging thing about this exercise is that you have to stay within the margins of the original song's theme. You can't stray too much with your lyrics as the songwriter's lines confine your own. This will be quite interesting to work on if you are bored of your lyric writing routine.
2.Play the Word Association Game
This is a really fun exercise to extract you out of the lyric writing rut. Pick a random word. It can be anything like Adventure, party, road trip, stars. Now set a 3-minute timer. And jot down as many words/phrases as you can think of associated with your chosen word.
After the time limit is over, glance at the list of words you've come up with. Now set another timer and try connecting these words into meaningful sentences. Voila, you have just created some new lyrics and had fun while doing it.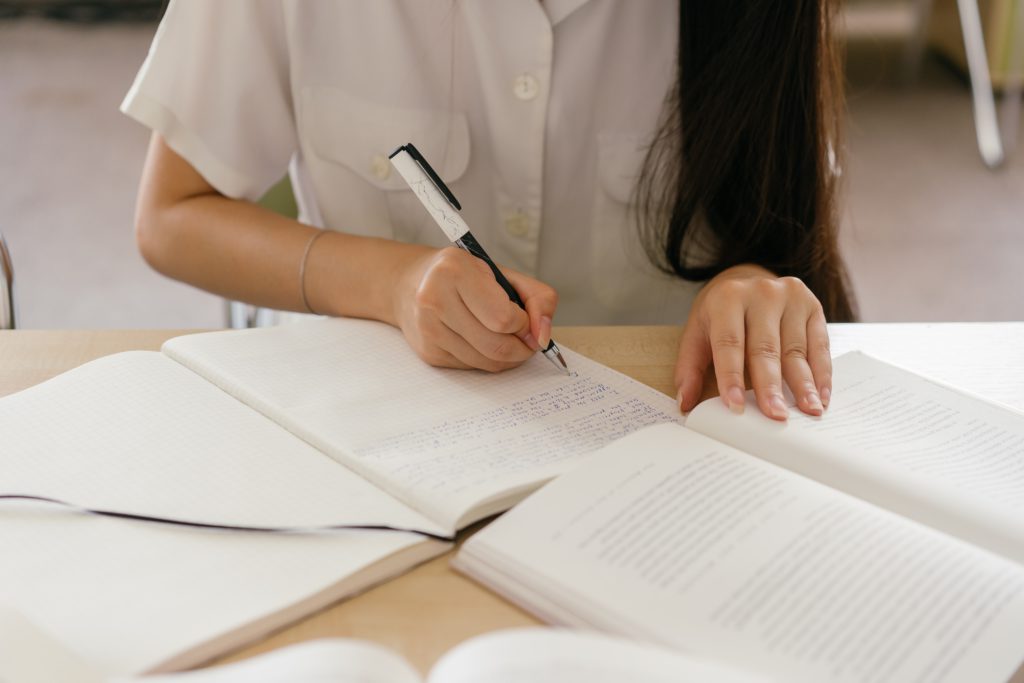 3. Write a Story in Limited Words
What's the difference between an author and a songwriter? Both are telling stories. But one elaborates it into a 500 paged book while the other condenses it into a 4-minute song. So, as a lyricist, you have to hone the art of storytelling in as few words as possible.
In this exercise, you can set a word limit. Say 6 or 9 words. Now try to convey a story in this word limit while making it impactful, emotion-inducing and beautiful. Over time, you will get better at this exercise and start churning lyrics that communicate a lot of emotions within the numbered words.
4. Re-write the Chorus to Your Favorite Songs
Another fun exercise you can dive into is changing the chorus to the songs you jam to. This can work with any pop songs since they're easier to work with. While sticking to the general theme of the song, design a new chorus for it.
The additional challenge in this exercise is to make sure your newly-written chorus fits the melody of the original song. Pick any song about easier themes like first love, heartbreak, chasing your dreams, etc.
5.Dive into a Particular Emotion
Songs are very powerful tools for evoking emotions in your listeners. The greatest lyricists of all time knew they had to paint a picture in the minds of the people. They would use rich words capable of inducing imagery because they have mastered what a particular emotion feels like.
Say you are writing lyrics about unrequited love. For it to really strike a chord, you should be aware of what unrequited love feels like. There's a powerful adage used in writing: Show, don't tell. Don't just pen: "It broke my heart to know my love wasn't reciprocated." Show the listeners exactly how it felt.
If you would research the most popular lyricists and then listen to their songs, you will go on an emotional ride. That's exactly what great songs cater to the people. They take them on an emotional roller coaster. Mastering this art would make you undeniably better at writing lyrics.
6.Practice Freewriting
If you are stuck in a songwriter's block, then one of the suggested ways to climb out of it is freewriting. Pick a random word you can find. Set a time limit. Start penning.
Write, write and just write. Write till the timer lets out a screeching wail. It can be meaningful or nonsensical. It doesn't have to be your best work. Write without letting your brain a moment to breathe. Don't stop to analyze if the lyrics you're writing are any good.
When you perform this exercise, you're writing more from your subconscious than your conscious mind. At the end of the time limit, you will be surprised at the sentences your brain has woven without a second thought. So, just grab a pen and start.
Experiment with these 6 lyric writing exercises; alternate between them. Keep mixing things up. You'll find that you are producing some of your most creative lyrics during these exercises. They're really robust devices to enrich your lyric writing faculties.
If you are a beginner at lyric writing and want to learn and get more adept at the art, you have landed in the right place. Unlu brings to you Lyric Writing Fellowship which is a 3 monthly multi-teacher program. Here, you can learn from industry experts about the A B C of lyric writing. They will coach you on the basics and give you some eminent tricks and tips to enhance your skills.