YouTube has outperformed its competitors since its introduction in 2005, becoming the primary way that most of us distribute and enjoy videos online. It's the most-visited website on the internet after parent firm Google.
YouTube has provided us with a source of amusement. It has provided us information and we have learnt a lot from it. It has also sparked the careers of a handful of celebrities, some of whom have gone from small vloggers to social media stars.
These are the most-subscribed YouTube channels on the entire platform, ranging from Bollywood and WWE celebrities to vloggers like PewDiePie and MrBeast.
T-Series
T-Series is the most subscribed YouTube channel of the world with around 383 million subscribers and around 718 billion views. It was founded in 1983 and is known for Bollywood soundtracks and Indian pop music, is both a music record label and a film production company founded by Gulshan Kumar Dua.
It is currently owned by Bhushan Kumar, son of Gulshan Kumar. T-Series get on board with YouTube on 13 March 2006 but started uploading videos in late 2010. T-Series channel also owns a multi-channel network with 29 channels. It is the first Indian channel across the world to cross 200 million subscribers on YouTube. The highest viewed video of T-Series is "Lahore" by Guru Randhawa scoring 731 million views.
Cocomelon
Cocomelon is an American YouTube channel for kids and streaming media show acquired by the British company Moonbug Entertainment and maintained by the American company Treasure Studio.
Cocomelon's videos include babies, adults and animals who interact with each other in daily life. It contains 3D animated videos of traditional children's songs and nursery rhymes, as well as a few of its own unique bops, and is most known for its "Bath song", which has been viewed 5 billion times on the platform.
Whatever Cocomelon is doing is evidenced by 128 million users. In 2020, Treasure studio added Cocomelon content to Netflix, Roku and Hulu.
SET India
Sony, the Japanese electronics company, has a huge fan following in India, with Sony Entertainment Television India being the third most subscribed and seen YouTube channel on the country.
It provides 24 hours of entertainment for its 126 million and increasing subscribers, airing a mix of dramas and reality shows like India's Got Talent, Indian Idol, The Kapil Sharma Show, etc.
The channels posts multiple times a day and is one of the fastest growing YouTube channels interms of subscribers and video views. SET India's YouTube Channel has uploaded 77,306 videos so far. The overall channel views are 111.5 billion.
PewDiePie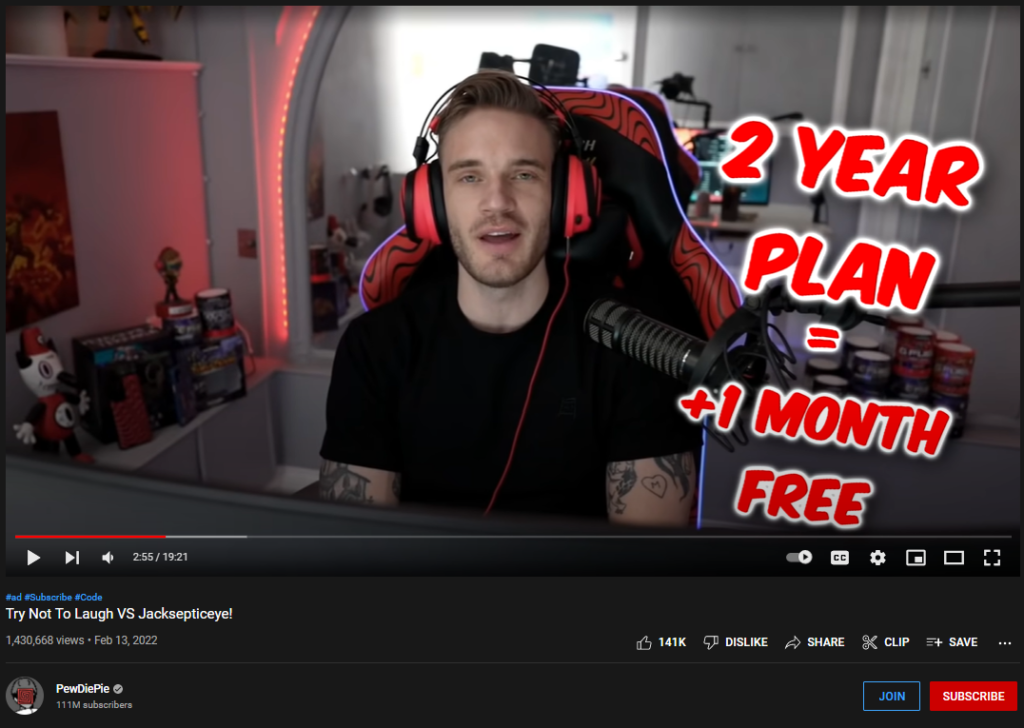 Felix Arvid Ulf Kjellberg name may not be familiar to you, but you are undoubtedly familiar with him as PewDiePie, the internet personality famous and infamous for his online "Let's Play" gaming material.
Felix wasn't the first person to record himself playing video games but he was certainly one of the most entertaining. His reactions to horror games were part of what drew notice at a period when no one had ever seen someone react to such a genre.
His YouTube success has catapulted him from South Park episodes to TIME magazine's "100 Most Influential" list, and he now has over 28 billion views on his channel, making him the most subscribed individual personality on the network.
The most viewed video uploaded by PewDiePie is the music video "Bitch Lasagna" published on 5 October, 2018. The video has over 292 million views.
MrBeast
Since going viral for "Counting to 100,000" in 2017, Jimmy Donaldson, also known as MrBeast, is an American YouTuber, internet personality, businessman and philantropist, has been receiving more and more attention. Since then, he's done an increasing number of viral stunts for his YouTube viewers including recreating the set from Netflix's smash show Squid Game and attracting 456 people to fight for a US$456,000 reward.
He undertook uploading videos on YouTube under the handle "MrBeast6000" in early 2012 with content ranging from "Let's play" videos to videos assessing the wealth of YouTubers. MrBeast is the platform's highest-paid user, earning as much as US$54 million in 2021 alone according to Forbes.
The video "I spent 50 hours buried alive" alone accounts for 160 million views which is the highest viewed video of the channel. Donaldson also runs several other YouTube channels, including Beast Reacts and MrBeast Gaming.
Kids Diana Show
Another English language children's show from Ukraine is Kids Diana Show. It stars a 7-year-old girl named Diana and her brother Roma, who has his own channel, Kids Roma Show. Children's music, toy unboxings, vlogging, educational content and pretend play are among the videos on the Kids Diana Show, which were initially posted in 2015.
The videos include very little conservation, relying instead on expressive faces and clothing to communicate stories. They have fun and act like children. The videos have been dubbed in Hindi, Japanese, Russian, Spanish, German and Portuguese due to their popularity.
It is the second largest YouTube channel made for kids. Since the channel started in 2015 Diana's videos which show her playing with her brother Roma and getting up to cute little adventures have collected upto 148 million followers and over 70 billion lifetime views.
Like Nastya
Anastasia Radzinskaya, popularly known as Like Nastya, is only eight years old, yet she's already earned a fortune on YouTube thanks to her viral videos.
Natsya's parents used the family savings account to pay the videos. They ranged from item unwrapping to amusement park visits, and the channel's success allowed them to relocate from Russia to Miami, Florida.
Anastasia's parents signed with multi-channel network Yoola. The videos are created by Anastasia, her parents and two video editors.
According to Forbes, Anastasia became the world's highest-paid YouTuber in 2019. And with a projected yearly revenue of USD 18 million, which made her "one of the world's fastest-growing artists", thanks to videos in seven languages.
Nastya has become the mosted popular children's YouTubers in the world.
World Wrestling Entertainment (WWE)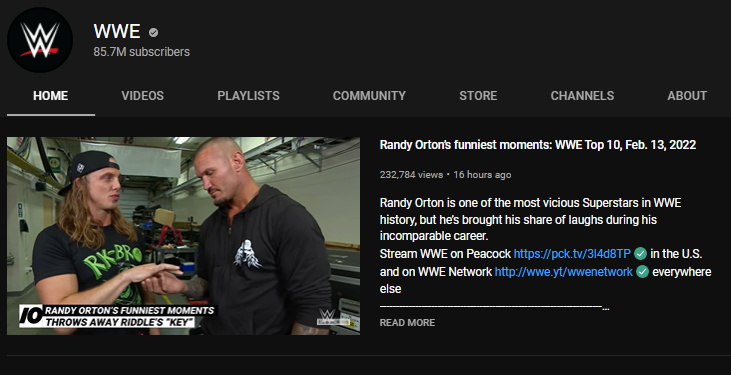 World Wrestling Entertainment, or WWE, is an American publicly traded, privately controlled entertainment organisation. It primarily specialises in professional wrestling. But it has expanded into other important revenue sources and economic activities over the course of its existence.
It is one of the top ten most subscribed YouTube channels on the planet. Wrestling fans from all over the world go to WWE's YouTube channel for the greatest in "sports entertainment". It includes highlights, interviews and exclusive videos with the federation's biggest stars.
LIV Morgan and Becky Lynch's brawl, the most viewed video of the channel, has already passed 1 million views on the WWE YouTube channel.
Zee Music Company
Zee Entertainment established Zee Music Company as subsidiary. The introduction was motivated by the "wide playing field" of the music industry. And the emergence of technology, according to Punit Goenka, CEO of Zee Entertainment.
Zee Music Company is a Mumbai-based Indian music company and a direct competitor to T-Series, YouTube's most subscribed channel. The label releases hit songs from Bollywood and well-known Indian musicians under the Zee Entertainment Enterprises banner.
The channel has accumulated 80 million subscribers and 43 billion views. Some of the channel's most viewed videos include Mile ho tum humko, Kala chashma and Mai phir bhi tumko chahunga.
The channel had released a large number of songs on a range of regional channels. For example: Zee Music Marathi, Bangla, Gujarati, Devotional, Classic and others.
Vlad and Niki
Vlad and Niki complete the top ten, and yep, it's yet another children's series. Vladislav Vashketov (age 8) and Nikita Vashketov (age 6) live with their parents in Miami, Florida. They make films in 18 languages for their 21 YouTube channels, which have 212 million members.
Vlad and Niki started their YouTube channel on April 23, 2018. The content largely focuses on themes of togetherness and sharing. In a vlog, the brothers can be seen pretending to play and trying out toys at home with their mother.
Nursery rhymes are occasionally used in their videos. For example, their most popular video is largely based on "Wheels on the bus". After signing an agreement with Playmates Toys, a Hong Kong-based company, they progressed from opening toys on camera to making their own.
They have their own app as well named Vlad and Niki and many games such as Vlad and Niki World, Vlad and Niki Smart Games, Vlad and Niki Monster Trucks, Vlad and Niki Super Market, Vlad and Niki Run and Vlad and Niki 12 locks.
Most of the channels in this list are channels made by kids for the kind. And hence, it can be observed that children, particularly the younger age group is more inclined towards watching YouTube.
On one hand, it is profitable for the YouTubers as their subscribers and views increase which increases their earning but on the other hand, it is quite deteriorating for kids as they spend most of their time watching videos which in turn increases their screen time and ultimately affects their brain negatively.
Unlu Youtubers Fellowship
If you are a beginner at YouTubing, unlu has a new YouTube Fellowship, where you get to learn all about Youtubing from the best and most trending Youtubers today. They will provide the necessary guidance, tricks, tips and hacks to make your video the best and how to get your video to garner more views. So, sign up for it now to avail all these benefits.